Milk powder
Milk powder is one of the popular food additives and ingredients in most countries. As a professional Milk powder manufacturer and supplier, Agritrade FZCO has been exporting Milk powder from United Arab Emirates since 2000, so you can be confident in buying Milk powder at Agritrade FZCO. Please feel free to email any inquiries and problems to [email protected]. Our B2B trade specialists will contact you within 24 hours of sending your inquiry during office hours. We will provide you with information about the product, its origin, price and method of delivery. We will also help you make a decision as to the choice of a specific product by presenting its industrial applications. As wholesale specialists, we will be able to provide high-level service with transparent trade rules. All trading transactions run smoothly with us!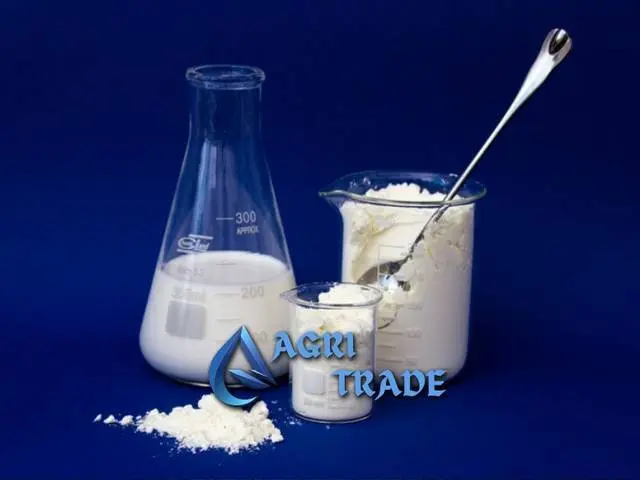 Packaging information
Packaging information for Milk powder

| | |
| --- | --- |
| Type: | Proteins |
| Qty in 20' FCL: | 12MT |
| Min. Order: | 1000KG |
| Packaging: | 25KG/BAGS |
Description of milk powder
Milk powder, also known as powdered milk or dried milk, is a dairy product made by evaporating milk to remove all its moisture content. This process involves spraying milk into a hot chamber, which causes the moisture to evaporate and leaves behind a dry powder.
Milk powder comes in different varieties, such as skimmed milk powder, whole milk powder, and fat filled milk powder, each with its own unique properties and uses. Whole milk powder contains all of the milk'snatural fat, while skimmed milk powder has had most of the fat removed.
Milk powder is commonly used as a substitute for fresh milk in various food applications, including baked goods, confectionery, infant formula, and nutritional supplements. Milk powder has several advantages over fresh milk. It has a longer shelf life and is easier to transport and store. It is also less prone to spoilage, and it can be reconstituted with water to make liquid milk, making it a popular ingredient in the food industry.
In terms of nutritional value, milk powder is a good source of protein, vitamins, and minerals. It is particularly high in calcium, which is essential for strong bones and teeth. However, some types of milk powder may have added sugar or other ingredients, so it is important to check the label before purchasing.
Overall, milk powder is a useful and versatile ingredient that has a wide range of applications in the food industry.
Application of milk powder
Milk powder is used in a wide variety of applications in the food industry, including:
Baked goods: Milk powder is often used in baking recipes like cakes, cookies, and bread to add flavor, richness, and texture.
Confectionery: Milk powder is used in the production of chocolate, candies, and other confectionery products to add flavor, improve texture, and increase shelf life.
Infant formula: Milk powder is a key ingredient in infant formula, which provides essential nutrients for the growth and development of babies.
Nutritional supplements: Milk powder is used in the production of protein powders, meal replacement shakes, and other nutritional supplements to add protein, vitamins, and minerals.
Dairy products: Milk powder can be reconstituted with water to make liquid milk, cream, or yogurt. It is also used to make cheese, ice cream, and other dairy products.
Prepared meals: Milk powder is used in the production of prepared meals, such as soups, sauces, and instant noodles, to add flavor and improve texture.
Overall, milk powder is a versatile ingredient that is used in a wide range of food applications, thanks to its long shelf life, ease of transport and storage, and nutritional properties.